august 8 2023 · 5 minutes to read
Key takeaway
You should know that Starlink provides internet via satellite, not television span>
With or without Starlink, local channels are at your fingertips, whether via a classic antenna or via the infinite world of streaming
Starlink can replace satellite or cable TV content using streaming from the same TV channels
In this article, I will explain the difference between Starlink satellite internet and satellite TV providers like Bell TV Satellite, ExpressVue and Shaw Direct. I will also detail how you can get free local television. Finally, I will answer the question of how to get TV through Starlink using various streaming services.
When most people think of satellites, they think of television. Bell and Shaw Direct have been providing television for many years through their familiar shakes. When Starlink arrived in Quebec in 2021, many assumed they would offer TV service.
Satellite TV and satellite internet are very different.
Starlink provides the internet, which connects your home network to the rest of the world wirelessly via a satellite connection. You install a dish (antenna) on your house, and this dish sends and receives information. Satellite TV works the same way, except the dishes are meant to receive a TV signal rather than internet data packets.
So the two systems are built very differently. Regarding Starlink, the service is intended for internet only, which, as we will see, can also be used to broadcast live television.
Live antennas for local channels
If you decide to get a Starlink subscription, how do you get the local TV channels? One way to get free local channels is to use a traditional TV antenna to receive local live broadcasts. Local TV stations broadcast their signals in the area for free. This means that if you live close enough to the station, usually within 120 kilometers, you should be able to receive local television for free.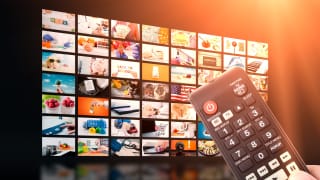 Free TV stations in Quebec by antenna or streaming
Complete list of television sets available for free in Quebec in high definition with a digital antenna or in streaming.
List of free TV stations
Fortunately, OTA TV antennas are relatively cheap and easy to hook up. You will need a TV with a TV tuner, which most already have. Antennas range from small enough to fit behind your TV to large roof-mounted antennas. Which one you need depends on the distance between the TV station and your home.
You can also get local TV channels through a variety of internet streaming services, which I'll cover next.
Live TV on streaming services
If you want live TV, but don't want cable or satellite, you can use internet streaming services with Starlink to access your favorite cable networks and channels. Since Starlink offers unlimited internet, you can use any streaming service you like. Many services offer live TV streaming, such as Hulu, YouTubeTV, and Sling TV. Since Starlink offers high-speed, low-latency broadband internet, it can handle streaming the latest HD and 4K shows to multiple devices in your home.
Most live TV streaming services can also stream your local TV channels. If you don't want to install an OTA antenna or live too far from TV channels, you can stream local channels over the internet using one of the many streaming services available.
Starlink and Satellite TV: Futuristic Dream or Concrete Possibility?
Technology never says "impossible", but sometimes it says "not necessary". Could the Starlink antenna pick up the satellite TV signal? Technically, yes. However, no initiative is underway to make this possibility a reality.
Starlink is designed to interact with low orbit satellites, very different from satellite TV satellites. Adjusting Starlink to pick up these signals would require modifications.
But, in a world dominated by Netflix, Disney+ and other streaming services, the need to turn Starlink into a satellite TV receiver is minimal. So for now, Starlink will remain focused on its core mission: providing super-fast internet. For TV, we have streaming and classic satellite dishes.
Can Starlink replace satellite or cable TV?
In summary, Starlink is not a live TV service like DirecTV. But since Starlink is internet, you can stream your favorite live TV channels through internet streaming apps like YouTubeTV and others. So yes, Starlink is quite capable of replacing your existing satellite or cable TV connection. Local channels are often available for free using an OTA antenna. For live TV channels, just be sure to select the internet streaming service that offers the networks you want.